At Pictet we offer our clients round-the-clock access to global markets via our trading desks in Geneva, London, Luxembourg, Montreal and Singapore. We place a strong emphasis on providing a proactive, client-driven service; and as Pictet is not an investment bank, nor does it make markets, there is no conflict of interest.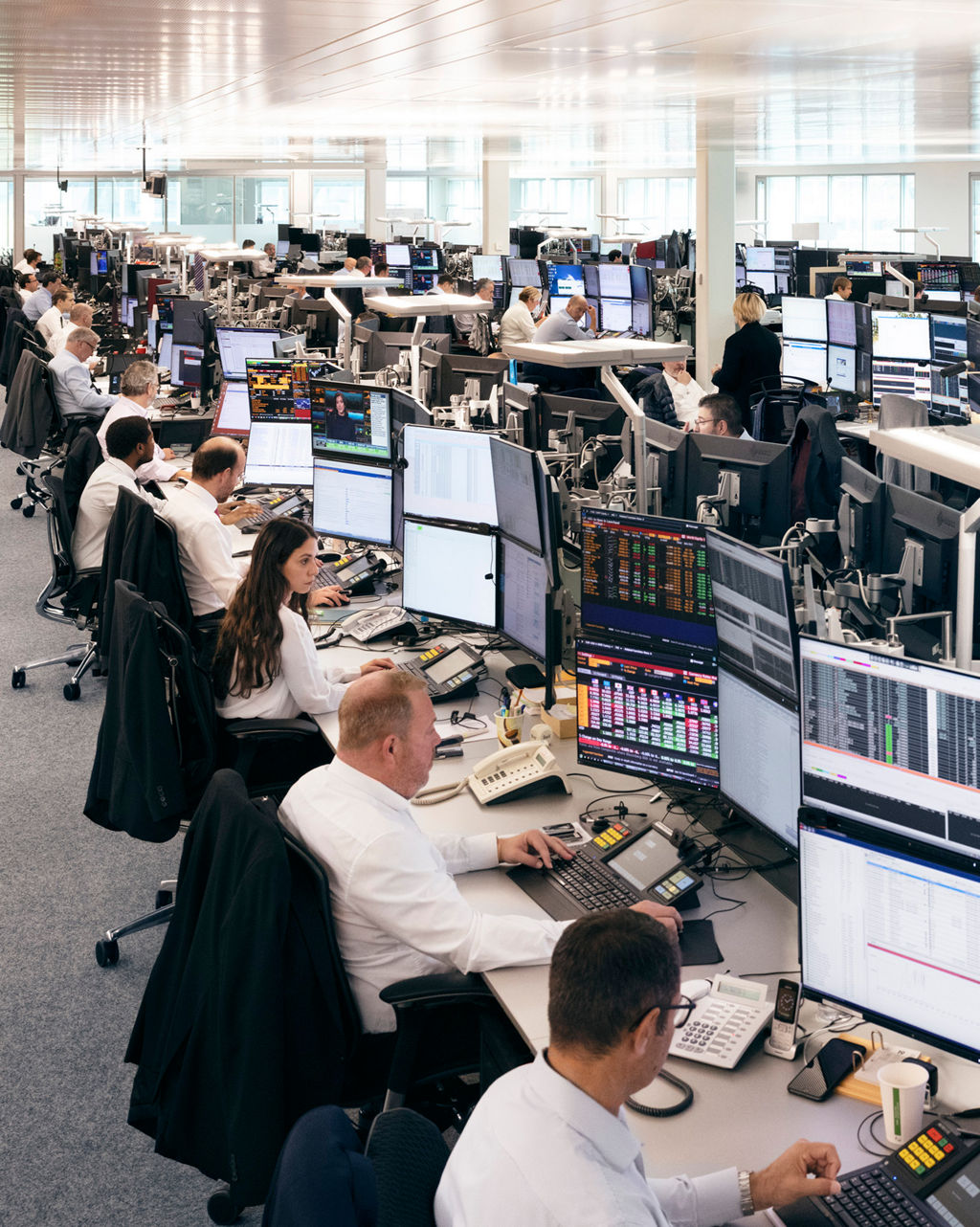 We offer bespoke solutions to financial institutions, asset, fund and wealth managers.
Trading solutions for institutional clients
At Pictet our flexible range of trading solutions includes electronic trading as well as direct access to our sales traders, and our global institutional sales teams can be reached at any time by phone, chat or email whenever markets are open. Clients have access to investment opportunities and expertise across a variety of financial instruments, and we work with them closely to build tactical solutions and bespoke products.
Our full suite of trading services and products includes equities, fixed income, foreign exchange and precious metals, investment funds, structured products and derivatives (OTC and listed):
Our experienced trading teams offer solid equity market expertise and access to Swiss and European markets through our desks in Geneva, London and Luxembourg; to the American markets through our Montreal desk; and to Asian markets through our desk in Singapore. As a pure agency broker we focus on high value-added sales trading and execution. Natural order flow capability and block trades are standard, and we provide follow-up on corporate news and breaking news. We also design tailored services on demand.
Foreign exchange and precious metals
Consistently ranked by R&M Surveys® and Global Investor Magazine among the top five institutions for quality of service in the past decade, Pictet's forex desk delivers liquidity, active order management and the latest technology for secure transactions. We offer trading in precious metals and freely convertible currencies, and our traders can provide prices on NDF contracts as well as OTC options on currencies and precious metals with maturities of up to one year.
Our fixed income team provides fast execution and pricing indications on every market, with in-depth knowledge of emerging markets and the Swiss market in particular. Investors benefit from our extended network of rigorously selected counterparties, which ensures secure trading, whatever the market. The team can also provide market intelligence and/or suggest a wide range of liquidity sources on request.
Unlike product-driven financial institutions, at Pictet we do not create standard structured product offerings. Rather, we accompany you through the entire design and implementation process – from concept to final execution. The structured products team can help you define your investment objectives across all asset classes by assessing your needs, accessing a network of first-class counterparties, and putting decades of experience at your service.
Derivatives (OTC & Listed)
As a member of Eurex, Pictet is able to reduce counterparty risk and gain privileged access to derivatives trading for all in-custody clients. We are also a member of a number of North American option markets via Pictet Overseas Inc. We offer competitive pricing on standardised and OTC derivative products, and are available to make suggestions to our clients on how to use volatility products to implement specific market views. *Some of our products are available to our in-custody clients only – please contact us for more information
Carrying out macro, technical and quantitative analysis, our team of analysts is dedicated to presenting investment themes and generating tactical ideas that are designed to complement short-term trading strategies, all of which are built around an established in-house quantitative process that captures significant market signals.
Depending upon investor status and location, clients can receive the desk's regular technical publications and macro commentary and/or attend conference calls and events.
In accordance with the legal and regulatory requirements in place to enhance investor protection and promote transparency (by the European directives governing markets in financial instruments collectively known as MiFID II), we present below key information relating to execution across Pictet entities in the UK and in Europe:
For 218 years we have invested in our people. What have we learnt? That our success, both present and future, depends not only on those already with us, but also on those who join us today and in the future. We are looking for talented individuals and are committed to helping them continue their development and training.